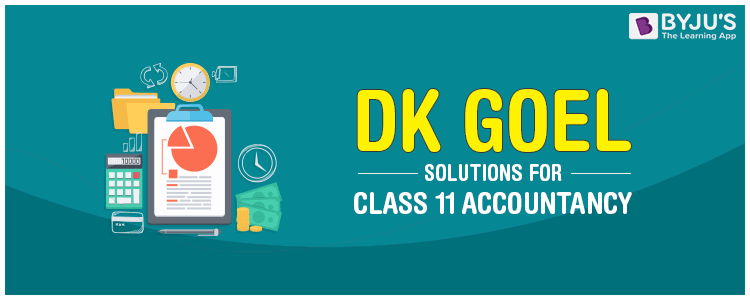 Students first come across Accountancy in Class 11. They would either find it simple or complex and it all relies upon how they comprehend the concepts. Learning the basics is certainly necessary and the best method to study smart is by learning from textbook solutions which are explained and solved chapter-wise. We at BYJU'S provide DK Goel Solutions for CBSE Class 11 Accountancy to assist students to comprehend all the theories in particular. There are numerous concepts in Accountancy, but the concept of Trial Balance, Depreciation and Bank Reconciliation Statement (BRS) is required.
DK Goel Textbook Solutions are outlined by subject matter experts. These model solutions involve comprehensive, step-by-step solutions to all questions in the DK Goel textbook for Accountancy. They help as a priceless benefit to students while completing their homework or while studying for their exams.
Why should the students consider learning from DK Goel Solutions Class 11?
Solutions are outlined by subject experts
Certain answers and cover all the topics
Solved chapter-wise
According to the advanced CBSE syllabus
Highlight concepts that are necessary for the exam
Easy to learn all the concepts
Complete answers for each question
Available free of cost
DK Goel Accountancy Class 11 Solutions:
DK Goel Double Entry Book Keeping Class 11 Solutions: Financial Accounting
How to Prepare for Accountancy Class 11?
In commerce, accountancy is a subject that has both solutions as well as theory topics. Students should follow five necessary steps to prepare for accountancy class 11.
Understand the concept

– It is essential to understand the meaning, definitions, and examples of each concept to have a strong base.

Solve solutions –

Once the concept is understood, students can start with solving simple equations.

Practice questions for every chapter

– After getting a basic knowledge about the concept, start solving practice equations and problems printed at the end of each chapter. 

Work on past year's question paper –

This will give students an idea about the questions pattern in board exams. Apart from the question paper format, students can have a better idea of:

Topics covered in the question paper

Distribution of marks

Commonly asked questions

Solve sample papers –

Only working on the previous year's paper is not enough to score good marks. It is equally important to solve sample papers as it will give guidance and updates on:

Variation in question paper pattern

Expected question

Ways to answer question

Change in answer format
Also Check: DK Goel Solutions for Class 11 Accountancy
Tips for Preparing Accountancy
The following tips will help students to prepare for accountancy.
Understand every concept to have a strong base

Solve problems every day 

Be alert on how much time you should devote in each concept 

Spend at least 15 minutes scanning question ans sample papers before you start solving the paper

Solve sample papers once or twice a week 

Understand throughly the basic accounting rules

Maintain small notes for each concept
These steps will help students prepare the subject properly with the correct answer and give students a fair idea about how to maintain confidence, manage time, and work efficiently.
Stay tuned to BYJU'S for more DK Goel solutions, question papers, sample papers, syllabus and Commerce notifications.
Additional Reading: What is Entrepreneurship?