NCERT Class 12 Books in English and Hindi Medium – Download Free PDF (for 2021-22)
NCERT Books for Class 12 are helpful in understanding all the complex topics. Every topic is explained in a very easy language along with the diagrams. The chapters in the books have illustrative examples and practice problems so that students can build command over the concepts. NCERT Books  are comprehensive in nature and are best study resource for students.
NCERT Books are widely used in all the CBSE Schools across the country. While preparing for CBSE Class 12 board exams, it is very important to have a thorough understanding of complex topics. If students have studied through NCERT Class 12 Solutions Book and practiced problem thoroughly, then they will be able to answer all 1-mark, 2-mark and other complicated questions easily. Also, most of the questions are asked from NCERT Books only during the exam.
NCERT Books for Class 12
Download the NCERT Books for Class 12 in PDF format for Maths, Physics, Biology, Chemistry and Maths in English and Hindi language from the table below. Access NCERT Solutions and pass the exam with high scores.
NCERT Class 12 Physics Book Chapter-wise
NCERT Class 12 Chemistry Book Chapter-wise
NCERT Class 12 Maths Book Chapter-wise
NCERT Class 12 Biology Book Chapter-wise
After finishing the entire syllabus of Class 12 from these books, students will get a clarity of concepts. They will be able to answers 1 and 2 mark questions easily as these questions are just to check the concept clarity. Also, students will able to answer long questions.
There are different reference books available in the market but to prepare for board exams and other competitive exams, NCERT is the best option anyone can go for. In CBSE board exams, marks are awarded for writing the answers in steps. If the final answer is wrong but it has been solved in multiple steps then students will get marks for the steps, especially in Maths subject. So, students must build a habit of writing answers in steps to score high marks in the board exam.
Along with concept clarity, it is very important to go through all the diagrams given in NCERT Syllabus. These diagrams will add up more marks in the exam. The CBSE Class 12 books have diagrams explained in a very detailed way. So, students must try elaborate the answer with the help of diagram wherever necessary. In Biology subject, drawing the diagram will fetch more marks.
After finishing all the exercise problems from CBSE Books of Class 12, students must solve the Previous year Question Papers of CBSE Class 12 to score high marks in board exams. We hope students have found this information on "CBSE Books for Class 12" useful. Keep learning and stay tuned for further updates on CBSE and other competitive exams. Download BYJU'S App and subscribe to YouTube Channel to access interactive Maths and Science Videos.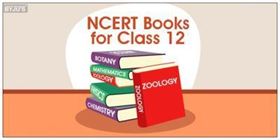 Frequently Asked Questions on NCERT Books for Class 12
How can we score full marks using NCERT Books for Class 12?
The NCERT Books for Class 12 are formulated by experts at BYJU'S after conducting vast research on each concept. It also helps students in doing their assignments given to them on time without any difficulty. Every minute detail is explained in a comprehensive manner to help students score well in the class test as well as board exams.
Is NCERT Books for Class 12 enough to score well in the board exams?
NCERT Books for Class 12 are available in PDF format which can be downloaded and used by the students without any time constraints. The solutions are created by the highly experienced faculty team of members at BYJU'S based on the latest CBSE syllabus and guidelines. Students can gain an overall idea about the concepts which are important for the exams. Studying from these books on a regular basis will improve time management and problem solving abilities among students.
How to make use of NCERT Solutions for Class 12?
The NCERT Solutions for Class 12 are curated by a set of expert faculty at BYJU'S having vast experience in the respective subject. Students are advised to refer to the solutions PDF while answering the textbook questions to strengthen their basics on the chapter. The questions are solved with pictorial representation where ever necessary to make understanding of concepts easier for the students. Apart from the board exam preparation, students will also be able to appear for various competitive exams with much confidence.