BSER OR Board of Secondary Education, Rajasthan (Hindi: माध्यमिक शिक्षा बोर्ड, राजस्थान)  is a board of education for school level education in the Indian state Rajasthan. The board is responsible for promotion and development of secondary education in Rajasthan state. BSER or RBSE was established in the year 1957 and is constituted under the Rajasthan Secondary Education Act 1957(Act No. 42 of 1957). It's primary role is to conduct secondary, senior secondary, and other state-level exams in Rajasthan. The details of  Rajasthan Board (RBSE) is given here.
RBSE Details
BSER/RBSE Full Form
Board of Secondary Education, Rajasthan
Founder
Government of Rajasthan
Establishmnet Year
1957
Headquarters
Ajmer
Chairman
Nathmal Didel
Administrator
Meghna Chaudhry, IAS
Contact
Ph.No: +91-145-2627454

Fax: +91-145-2420429
About Rajasthan Board
The Board of Secondary Education, Rajasthan or the BSER was set up on 4th December 1957 with the aim to promote and develop secondary education in the state.
Overview of Rajasthan Board
RBSE Details

RBSE Class 10 Exam
RBSE Class 12 Exam

RBSE Syllabus
RBSE Books
Rajasthan Board Exam Time Table
RBSE Results
Materials for Rajasthan Board Exam

Model Papers
Question Papers
Exam Blueprint
Sample Papers
Preparation Tips
Commonly known as RBSE or Rajasthan board, it is responsible for conducting various exams including class 10 and 12. All the major exams conducted by Rajasthan board are:
CLASS 9th Vocational Examination
Secondary School and Vocational Examination (+10)
Class 11th Vocational Examination
Senior Secondary Examination (10+2)(Science/ Arts / Commerce)
Praveshika Pariksha (+10) ( Sanskrit Shiksha)
Varishtha Upadhyay Parisksha (10+2)(Sanskrit Shiksha)
State talent search examination. ( STSE ) Regular
National Talent search examination. (NTSE)
Overview of RBSE Exam Performance in Class 10 and 12
BSER Class 10 Performance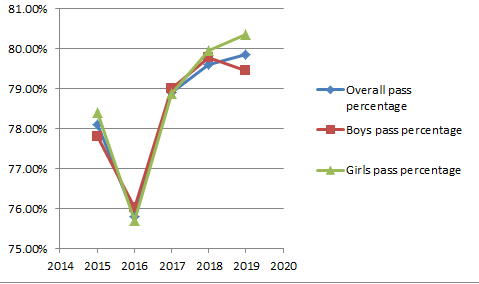 | | | | | | |
| --- | --- | --- | --- | --- | --- |
| | 2015 | 2016 | 2017 | 2018 | 2019 |
| Overall pass percentage | 78.1% | 75.89% | 78.96% | 79.86% | 79.85% |
| Boys pass percentage | 77.87% | 76.02% | 79.01% | 79.79% | 79.45% |
| Girls pass percentage | 78.41% | 75.7% | 78.89% | 79.95% | 80.35% |
Note: The total students who appeared for RBSE class 10 exam in 2016, 2017, and 2018 are 11,06,048, 10,51,105, and 10,98,655 respectively.
Meanwhile, data of stream wise pass percentage of those who appeared for Class 12 exams in 2019 is given here:
Stream wise Class 12  Pass Percentage in 2019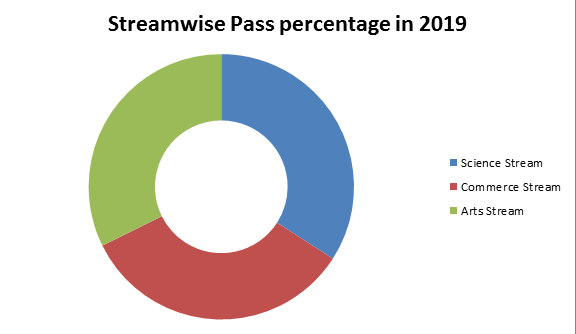 | | | |
| --- | --- | --- |
| Stream of Studies | Total No of Students Passed | Pass Percentage |
| Science Stream | 2,39,367 | 92.88% |
| Commerce Stream | 38,095 | 91.46% |
| Arts Stream | 4,98,569 | 88.00% |
Old data of students who appeared for the Class 12 exams in 2018 is also given,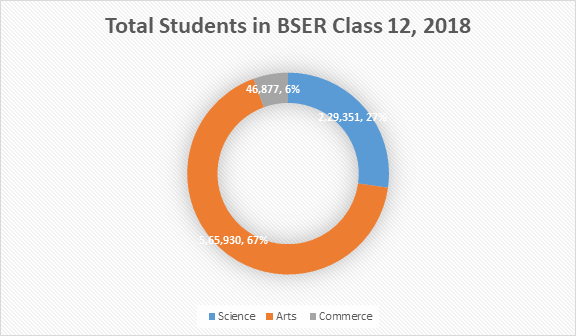 BSER Exam Resources
Rajasthan board designs the syllabus for all the classes in a strategized way. Topics are included by properly brain-mapping and keeping the requirements of the students in mind. The complete RBSE syllabus for all the classes can be checked from here and students can get acquainted with the syllabus topics of their respective classes easily. The BSER syllabus provided here covers all classes and all the subjects.
The Rajasthan education board makes it simpler for the students to get all the books of each class online. Students can download BSER or RBSE books of all the classes for free from the linked article. These downloadable online Rajasthan board books are extremely helpful as the students can now access the content according to their own convenience even in offline mode.
It is extremely important for the students to know the RBSE exam dates. The RBSE class 10 exams are generally conducted in march. The exam starts by mid march and end by the last week of march. On the other hand, the RBSE class 12 exams start by first week of march and end by last week march. Check the latest Rajasthan board exam time table from here to get completely acquainted with the dates and prepare for the respective exams accordingly. The RBSE also conducts supplementary exams every year in the month of august for the students who fail to clear the exams.
After the commencement of RBSE exams, the Rajasthan board declares the results. Generally, RBSE results for all the exams i.e. for class 10 and 12 streams are declared by the end of may or by the beginning of June. Candidates can check their results online by visiting the official website and can download their mark sheets from there. Also, the supplementary results are generally declared by September third week.
Materials for Rajasthan Board Exam
Stay tuned with BYJU'S and get complete information about Rajasthan board and also get additional assistance for the RBSE exams.
Frequently Asked Questions on Rajasthan Board
What does BSER stand for?
The full form of the acronym BSER is the Board of Secondary Education, Rajasthan, which is responsible for the promotion and development of secondary education in Rajasthan state.
When was BSER Founded?
BSER was set up in the year 1957, some 62 years ago and constituted under the Rajasthan Secondary Education Act 1957.
What is the full form of RBSE?
The full form of RBSE is Rajasthan Board of Secondary Education responsible for governing examinations including Secondary and Senior Secondary and other competitive examinations.
How to check the Rajasthan Board Results?
The Rajasthan Board Result will be declared on the official website of the Rajasthan Board as well as on the results website of the Rajasthan Board. For steps on how to check result, you can also check out RBSE Result page here.
How much is the examination fee for regular examiners?
Examination fee of Rs. 450 / -. Experimental fees for experimental subjects 50 / – per subject is payable separately.For each additional subject, Rs. 450 / – will be given separately.